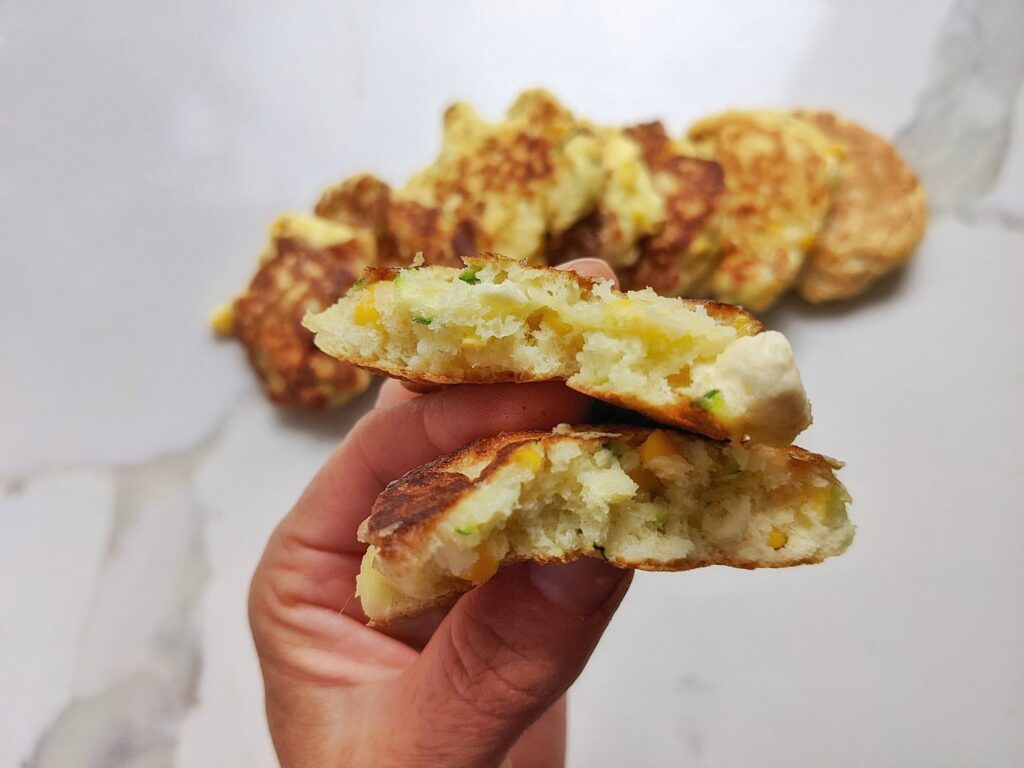 Looking for school lunchbox ideas? Or maybe some finger food for an event you have coming up or perhaps you're like us and love to have these as savoury snacks…
Let's be honest, it's not always easy to get your kids to eat their 'greens'. What do kids have against the colour green anyway? Unless it's a green M&M or green snake of course! Am I right?
I'm a huge fan of zucchini, I find it quite versatile and use it in a lot of my recipes such as our Chocolate Muffins, Mexican Beef Bowls, Bolognese sauce and even in our Zucchini and Cacao Birthday Cake. What I've learnt throughout my parenting journey is that if I add grated Zucchini to our meals, along with other ingredients my daughter likes, then it's a safe bet she won't mention anything about the fact she doesn't really like zucchini.
The recipe for these fritters doesn't have too many ingredients and won't take you long to make – music to my ears! Plus, you can always swap out the feta cheese for parmesan or tasty cheese (basically something that has slightly higher salt content).
Whether you're making them for school lunchboxes or as an appetizer for a family BBQ, these tasty little bite size treats are a real crowd pleaser. Enjoy them freshly made or batch cook them and keep them in the fridge for up to 5 days.
INGREDIENTS
1 cup (150g) plain flour
1 ½ tsp (10g) baking powder
½ tsp (4g) fine salt
2 medium eggs
⅓ cup (80g) milk
1 cup of corn (we like to use fresh boiled corn but you can use canned or frozen)
1 cup of grated zucchini
100g of feta cheese (or half grated parmesan and tasty cheese, basically something that has slightly higher salt content)
50g of butter (optional)
METHOD
In a medium to large mixing bowl add 1 cup (150g) of plain flour, 1 ½ tsp (10g) of baking powder, ½ tsp (4g) of fine salt and mix thoroughly to ensure the baking powder and salt is evenly distributed through the flour
Add 2 eggs to the centre of the flour mixture and beat them so the yolks are incorporated into the whites
Then add 1⁄3 cup (80g) of milk on top of the eggs before mixing and incorporating all the ingredients in the bowl together. Be sure not to over mix it as the gluten in the flour will become too stiff, you just want to mix it until the lumps are removed
Add 1 cup of corn, 1 cup of grated zucchini and 100g of cheese (if you are using feta, crumble it first) then mix it all together
Place your fry pan on the stove over a medium to low heat
If you want a slightly richer and more golden fritter then this is where you will add some of the butter to coat the frypan. You will do this after every batch of fritters you make
Using a tablespoon, scoop the batter and place it on the pan. Keep doing this until you fill the pan making sure you leave room to be able to flip each fritter
Flip each of the fritters after about 2-3- minutes and repeat until all the batter has been used