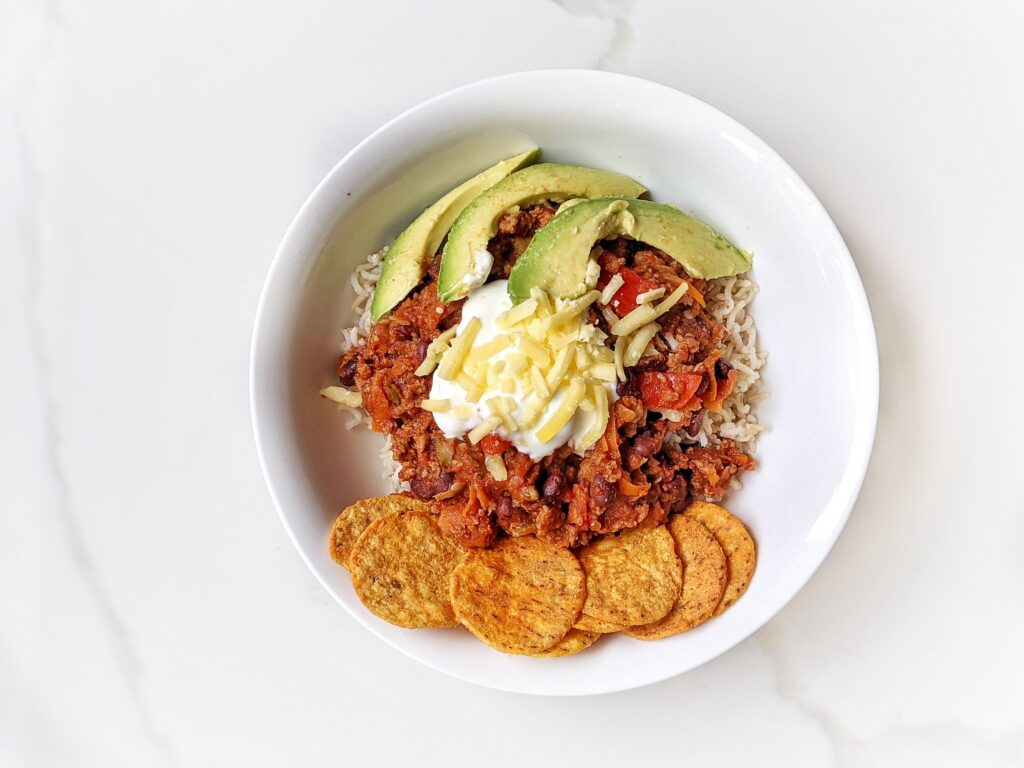 In our household, we don't cook mince all that often but there is no denying how versatile it is when it comes to quick midweek meals the entire family will enjoy. 
So when I do cook with it I like to mix it up, sometimes I use turkey or lamb mince or even plant based mince but most commonly I use lean beef mince. I always load this meal with as many veggies as I have at home, so feel free to substitute the ones I've listed below. Obviously it'll change the flavour profile of the meal though so be careful with what you use – but I guess that's the ease of cooking with mince, pretty much any recipe can become a 'savoury mince' meal.
If you're cooking for little ones (like me) then I omit the chilli powder or simply remove your kids portion before I adding it into the mixture. 
The great thing about this recipe is you can prepare it at lunchtime and let it simmer all afternoon (or for as long as you want). Otherwise if you're pressed for time then it can be eaten as soon as the mince and veggies are cooked, which is usually under 30 minutes.
You can serve this dish with quinoa, brown rice or any other grain you like. Quite often I'll serve mine on a bed of mixed green lettuce as it's a nice alternative when you feel like having a light dinner.
INGREDIENTS
500g lean beef mince (or any of mince of your choice)
¼ small brown onion 
1 small capsicum 
1 medium carrot
2 large zucchinis
2 cans whole peeled tomatoes 
1 can of 4 bean mix (or black beans)
1 cup of natural organic yoghurt (I use the five:am brand)
2 tsp cumin
2 tsp paprika
3 tsp oregano leaves
1 tsp chilli powder (optional)
1 tsp chicken stock powder
1 tbsp tomato paste 
1 packet of organic corn chips (optional)
1 medium avocado (optional)
METHOD
1. Finely dice ¼ brown onion, grate 2 large zucchinis and 1 medium carrot (with either a hand grater or food processor) and roughly chop a small capsicum
2. Meanwhile cook the brown rice as per the packet instructions 
3. Rinse 500g of mince under water while heating a large non-stick pan on the stove. Toss the chopped onion into the pan to quickly brown them, once the mince is washed add it in and stir until it's cooked through
4. Then add the chopped small capsicum as well as the grated zucchini and carrot and cook for a further 5 minutes
5. Add in the spices; 2 tsp cumin, 2 tsp paprika, 3 tsp oregano leaves and 1 tsp mild chilli powder (alternatively you can buy taco mix from the supermarket), 1 tbsp of tomato paste and tsp of chicken stock powder – then give it a good mix
6. Stir through the two cans of tomatoes and 1 can of four bean mix and simmer for a further 10 mins (or for as long as you have time for)
7. Divide the cooked brown rice between bowls, add the mince and veggies mixture, then top with yoghurt and cheese
Optional: Finally garnish the bowl with some corn chips and avocado
Serve and enjoy x