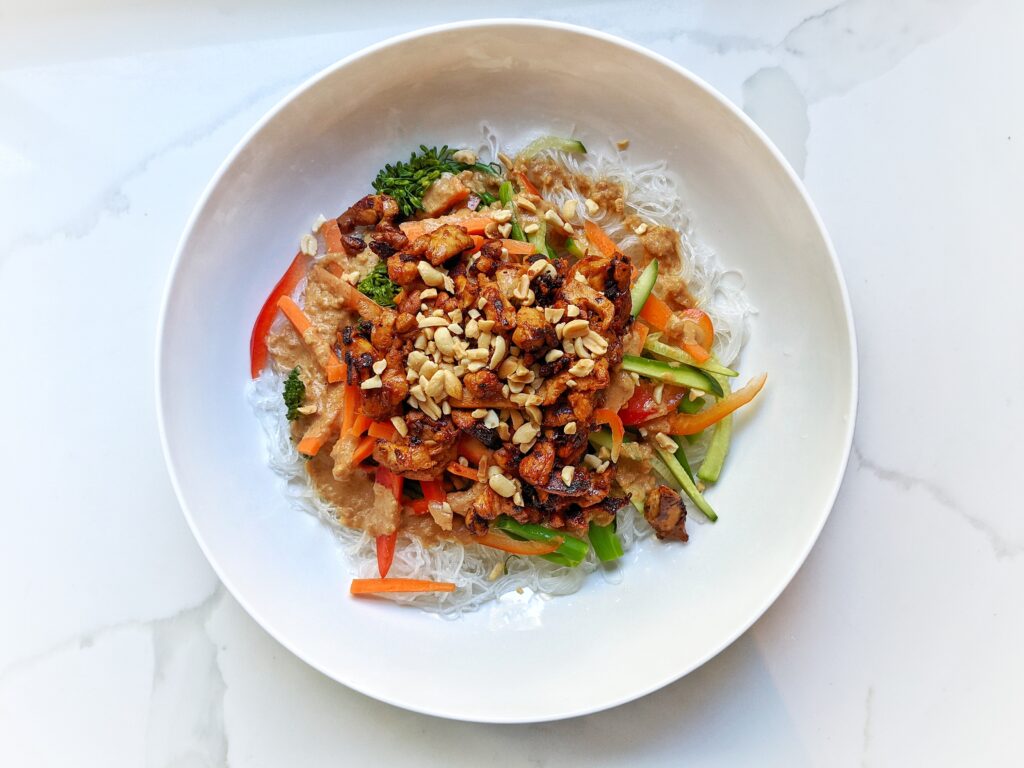 Looking for other ways to use your The Tiny Bites Co. Natural Crunchy Peanut Butter?
For anyone who knows me well will know I eat Peanut Butter by the truckload – daily!!
So I don't exactly struggle to get through my bottomless jar of Peanut Butter, however, finding and adapting this Woolworths recipe was just an excuse for me to integrate more Peanut Butter into our family meals.
Peanut Butter fans, if you know you know!!!
True to my word, this recipe is a quick and easy midweek dinner, which you can throw together in under 30 mins – heaven for the time poor or those of us who like to keep cooking pretty simple.
As always, there are a few modifications you can make to this recipe such as; replacing the chicken with tofu or beef, adding in extra veggies like capsicum and broccolini or even using smooth peanut butter instead of crunchy. Whatever way you serve it, It's sure to be a hit with the whole family.

INGREDIENTS
500g chicken thigh fillets
1 tsp sesame oil
200g vermicelli rice noodles
2 medium carrots
1 medium cucumber
1 tbsp fresh Ginger (grated)
1 ½ tbsp kecap manis
1 tbsp rice wine vinegar
1/3 cup soy sauce
1/3 cup Chinese rice wine
½ cup of our Natural Crunchy Peanut Butter
1 cup warm water

METHOD
Slice the 500g of chicken into thin pieces or strips
In a large bowl mix together 1 tbsp of grated fresh ginger, 1/3 cup Chinese rice wine and ⅓ cup soy sauce. Once it's combined add the chicken, coat it well and set aside to marinate for about 10 minutes whilst you prepare the rest of the meal.
Meanwhile cut the carrot and cucumber into julienne style pieces.
Fill up the kettle with water and boil so it's ready for the vermicelli noodles to be cooked.
For the satay sauce combine ½ cup of peanut butter, 1 tsp sesame oil, 1 ½ tbsp Kecap Manis and 1 tbsp rice wine vinegar into a medium size bowl (or glass jug). Then add 1 cup of warm water, mix thoroughly and set aside.
Place the marinated chicken into a frying pan and cook for about 5 minutes, then remove from the frying pan and set aside.
Using the boiled water, cook 100g of vermicelli rice noodles according to packet instructions and drain.
On a large platter combine the noodles with the sliced cucumber, carrot and chicken – I also added some steamed broccolini because I had it in the fridge.
Finally, pour the satay sauce over the top of the platter.
Optional: Garnish with chopped peanuts and fresh slices of chili.